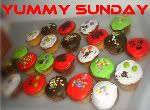 Here's my Yummy Sunday for this week, Fried Shrimp. One of my favorite sea foods. It's easy and quick to cook during special occasions. That's so yummy, promise!!!!
You can view more yummy foods if you click the logo above. Thanks to
Janet
for hosting this yummy Sunday meme. Have a great weekend to all..