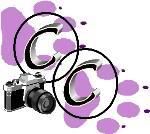 Last week me and my sister with her daughter went to the next city to looked for a white bunny for my niece. Abby my niece always ask her mom for a white bunny so we travel and looked at the petsmart. But we can't find there instead I was attracted to these colorful birds. In just a matter of seconds I took few pictures in there. Here it is they got cute eyes when I clicked my camera.
To view more photos, check out our
Camera Critters
website hosted by Misty. Thanks and Merry Christmas to all.