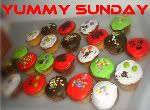 I don't know the exact name of this dessert but most Filipino here call this food as tikoy here in Canada I don't know what's this in English. It's one of the best dessert of most Filipino here and I like it, it's like cassava cake in taste but they call it tikoy here. It's my friend Miriam who prepared all of these last Christmas day.
It's a fruit salad prepared by Miriam's mom and below is a chocolate mousse cake. It's more yummy and my favorite cake. You can view the main dishes
here
at my new food site.