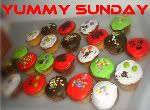 Its spring rolls the Filipino favorite recipe during parties and get together. It's my friend Miriam who made these yummy spring rolls, one of her recipes last 25th of December at their house. I am one of her visitors that time and of course I brought my camera there.
To view more yummy foods, just visit our main site Yummy Sunday hosted by
Janet
and you can participate if you like. See you there!!