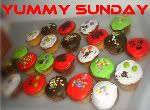 It's a rice cake or we called it bibingka in the Philippines. One of the most popular dessert in the Philippines. Here's the ingredients and procedure:
1 lb. flour
2 tsp. baking powder
1 1/2 c. fresh milk
4 eggs
1 can coconut milk
1 c. white sugar
1 c. brown sugar
1 1/2 tsp. vanilla
1 block butter, melted
Combine ingredients and mix well using an electric mixer. Sift batter to remove lumps. Pour into 9x13 inch greased pan. Allow 4 to 5 minutes for air bubbles to escape. Bake at 350 degrees for 1 hour or until toothpick or knife comes out clean when inserted in the middle.
The second picture is the letche plan. If you want to cook this kind of dessert, here's the procedure and ingredients.
3 eggs
3/4 c. evaporated milk
1/2 c. sugar (white)
1 tsp. vanilla
Beat the eggs and mix it with other ingredients until sugar is melted, then add the vanilla. Heat 1/2 cup of sugar in a saucepan; stir until the sugar is brown and sticky (syrup).
Pour syrup in a baking pan covered with foil, then place it on another baking pan with water, then place baking pan in the oven. Bake it for 1 1/2 hours at 350 degrees. Cool for 1/2 hour, remove the foil and replace with plate to cover. Then turn baking pan upside down.
The last one is the cake made from Canada.