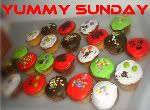 Looks so yummy, right? It's fried pork chop prepared by my friend when I went and visit her last week. She cooked this one and here's her recipe if you want to know.
Ingredients:
10 pcs of pork chops
1 cup of soy sauce
1 tsp. ground black pepper
5 cloves of garlic skinned and smashed
cooking oil
Directions:
In a large bowl combine all ingredients such as pork chops, garlic, ground black pepper and soy sauce. Mix well, cover and set in the fridge for 30 minutes or more. In a frying pan heat the oil and fry the pork chops for 5 minutes see to it that it's brown and cook well. Serve it with rice.